On the Front Porch with Maggie Blue!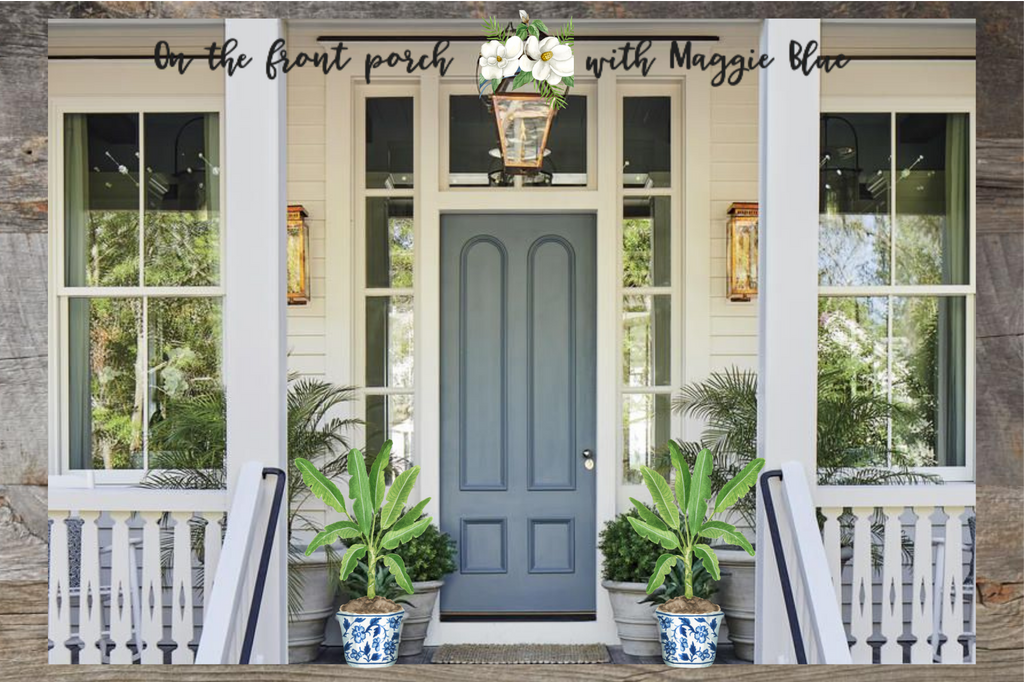 Welcome to the front porch!
Honestly, it doesn't matter where you grow up - Louisiana, North Carolina, Wisconsin or Pennsylvania - there's a balcony, patio, lanai, front porch or deck just waiting for someone to sit on. In the south, I have to say, we are pretty proud of our porches, so we've named our blog "On the Front Porch with Maggie Blue." 
Together we're going on some adventures which will all start here. 
I am not the Belle of the Blog - we are all equals on this front porch and the real center of attention is living the southern coastal lifestyle. We are going to gab about everything from entertaining and style to outdoor activities, best travel tips, exciting new trends, cultural influences in the south, new products and interesting people. You know we have a few of those. 
Together, we will touch on the rich traditions that give the south its unique roots while exploring, and cultivating, a bold, new southern heritage together.
We'll celebrate everything from neighborhoods, wineries, distilleries, art, beaches and attractions – we'll talk about what's old, what's new, where to go and who to know! Like all good YaYa's, we'll share recipes and ways in which we can honor our granny's favorite heirlooms in an updated Southern style of living.
We all have different ideas of what makes the south - the SOUTH. I know I live for the distant sound of an outboard motor - it tells me immediately that fun is a few currents away - and fishing, crabs or just a day in the sun is ready to happen.
For me the south is lightning bugs and doughy beignets in the French Quarter, Spanish moss cascading through Live Oak branches and magnolias, the size of saucers, with that amazing scent take me back to my college campus where it looked like they grew 10 stories high! 
How about the burnt ends of BBQ or picking crabs, jasmine twining its way over a garden arch or romping in a sudsy surf on a favorite southern beach? Do these southern things sing to you?
Doesn't matter to Maggie Blue if your family has deep southern roots or your visits to the Outer Banks, Gulf Shores or other southern coastal destinations capture your imagination, I'm just happy you're here. And once you're here and sit a spell, you're a full-fledged member of the "Blue Crew!"
Magnolia Blue understands that, "southern" is as much a state of mind as it is a place on the map. You can live in Minnesota or Hawaii and still love the south and crave the sights, sounds and scents below the Mason-Dixon.
From the foamy shores of the Atlantic to the inland creeks and waterways where we kayak and fish, the south is a place where locally made Kombucha and microbrews comfortably sit alongside pitchers of sweet tea and moonshine! Chicken and waffles, a southern staple, is reimagined with cheddar and rosemary waffles and butter spiked with chipotle or maple cream.
We love chili cook-offs and low country boils and oyster roasts and THAT, right there, is the signature of the true southerner at heart, it's not geography, it's hospitality. We will use any excuse to see one another, share a favorite family dish or argue about football (college, that is!). 
Plenty of room on the porch – so find a seat, bring your favorite stories, family recipes, secret getaways and we will Ya-Ya our way through it all and enjoy one another's company. Welcome to Magnolia Blue!