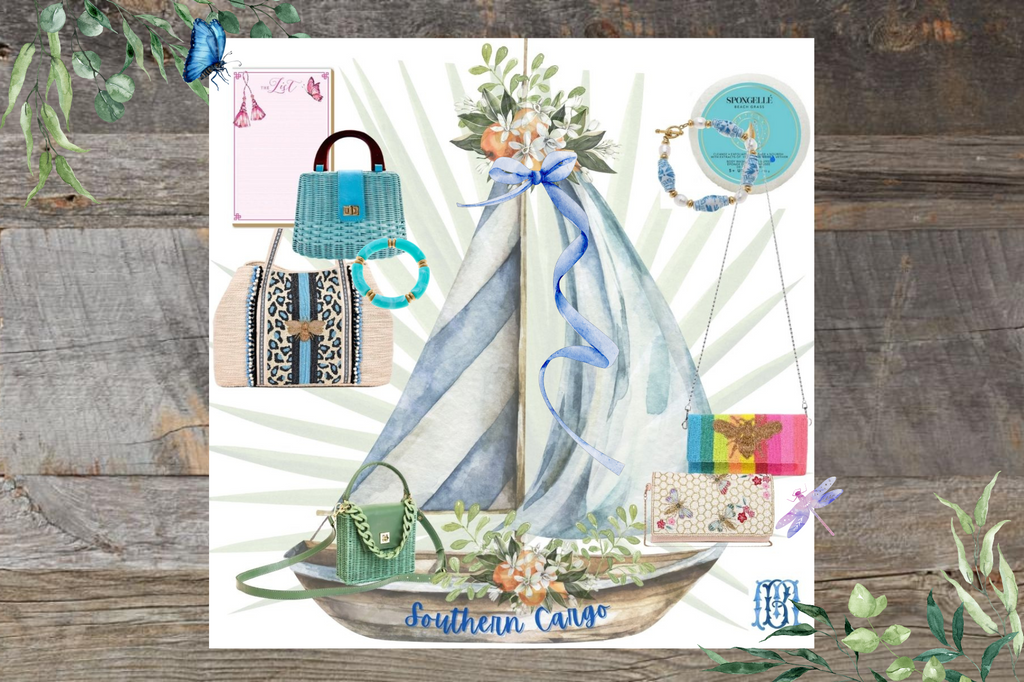 Finally...drum roll, y'all, presenting the Magnolia Blue Southern Coastal Living inaugural collection!
The focus of this, and future, collections is on products by southern artists, creators and collaborators.This collection attempts to marry a style that is unstudied, but rooted in coastal and southern sensibilities.This means, you'll see examples of all four of Magnolia Blue's identified southern coastal styles - BoHo Beach Chic, Classic Preppy, Southern Country Coastal and Palm Beach Southern Chic as we grow the collection.The mission of this collection is evocative of the colors of spring and summer, of busy bees in southern gardens tucked behind ironwork gates and butterflies flitting from sea oat to sea oat on the shoreline. 
A conscientious effort has been made to work primarily with individuals and companies that guarantee fair trade practices (for goods produced overseas), individual artists where possible, and with those who give back to various organizations, including those who to help sustain our environment with a minimal footprint.
Magnolia Blue rattan handbags, for instance, are ethically sourced from the islands of Bali and Java, Indonesia via a southern designer, who was born in Indonesia. The woman-owned business with whom Magnolia Blue collaborates with, uses eco-friendly materials such as rattan, ate grass, palm leaves and vegan leather. Products are sourced from fair price, making sure the working conditions are healthy and safe, using non-toxic materials. The handbags may cost slightly more, but each bag is not only well-made, but conscientiously manufactured at every level.
The mission of the Magnolia Blue collection is to elevate and support southern artists, or those indivduals and companies who share the southern coastal sensibility - with handbags, hostess gifts, textures and textiles that compliment our style, personally, and in the home. In this inaugural collection, we are working with individual artists from Texas and Florida, Indiana and Iowa. We strive to locate companies and creators who manufacture products within the United States, but are equally delighted to work with those who practice fair trade and sustainable manufacturing internationally. We indicate in our product listings where, and by whom, items are designed and manufactured - transparency is important to us.
From award-winning handmade handbags to services pieces that will elevate cocktail and tea time, to hand-beading, scents from the garden and sea, including citrus and rose, to sea creatures and florals, as the collection unfolds over the next several weeks, I hope you'll find something for you, a family member or friend. 
In addition to our collection, we take the world of packaging and recycling very seriously. As a start, we are part of the "no issue eco-packaging alliance" - our tissue paper is made from recycled, biodegradable materials so it's 100% compostable. It is acid-free, sulphur-free, and lignin-free paper certified by the Forest Steward Councilship (FSC), and can be composted at home or commercially. I hope you'll love that it's also printed in soy-based inks to fully compost without generating waste or toxins. As our business grows, we will develop more ways to lessen our footprint and designate a percentage of our sales toward keeping our planet, and it's inhabitants, safer.
I hope you'll enjoy this collection, and return to peruse new items as they are added. We will be expanding our home and entertaining collection, as well as introducing a bath collection and men's products. I also look forward to working with artisans on creating designs unique to Magnolia Blue. Whether you are lakeside in Michigan, or knee-deep in sand castles in California, our curated line is imbued with southern, coastal influences, seaside, lakeside or poolside!
Continue reading