Southern Summer Styling: Just Add Rattan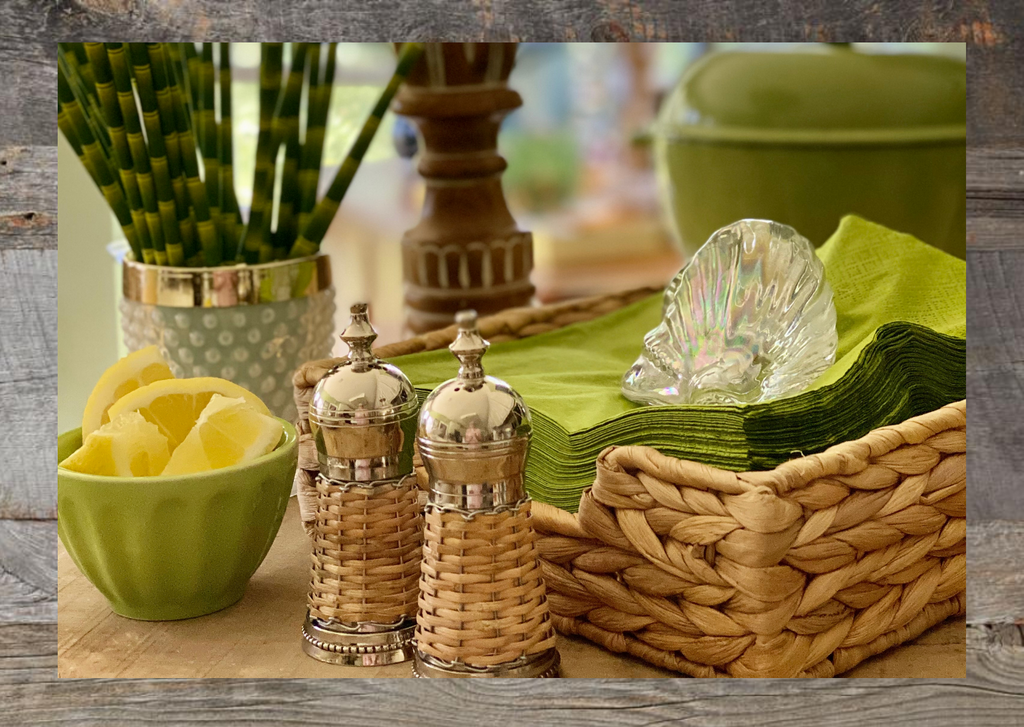 Cue the bamboo, rattan, raffia, water hyacinth and wicker – we are ready for a southern summer! A sure sign of summer in our home is the appearance of even more rattan and raffia than we already have in the house. I recently picked up a pair of cane, black trimmed Tommy Bahama trays (pictured below)  to add to our collection. 
Southerners have a special relationship with wicker. On the front porch, natural or painted, or on the lanai plumped with cushions, wicker has played a role in southern households for generations – some of that wicker furniture has been passed down for just as long!
But, would it surprise you to know that the first documented piece of wicker came to this country on the Mayflower in 1620? So while southerners have adopted this woven furniture as a tropical favorite, it actually traveled from north to south – and we are ever so glad it did! 
Many of these various palms, the actual material with which these items are made, have their origins in tropical Africa and Southeast Asia; I like to romanticize their journey from long ago picturing full-masted tall ships pushed by sea winds across the ocean to bring cargo to our shores from exotic locales. Today, that journey may be a lot less romantic (and safer!), but the tropical feeling remains! 
By explanation, rattan and raffia are actual types of two different palms while "wicker" is defined as the style in which plants like bamboo and willow are woven. We frequently confuse "wicker" as a material, not a style of weave.
Changing out a lamp shade from linen or silk to rattan, cane or raffia is easy - Ballard Designs (pictured) carries various sizes, as do other home decor outlets; nautical rope drawer pulls are an equally easy change that adds texture to a favorite dresser or closet door! Maggie Blue loves this black trimmed double-tray bar cart from Global Caravan; Pottery Barn carries various size water hyacinth woven baskets to store beach towels, afghans or extra pillows, along with this great rattan photo frame. If your looking for budget friendly seating - check out this woven ottoman at IKEA - only $29.99. I bought two and have had them for years - you can even stack them. Kirklands, and HomeGoods frequently carry buffet lamps with rattan shades - and when summer is turning into fall, you can switch out a more seasonally appropriate small shade to change your look. Another tip: change out your rugs from heavy winter Persian or wool looms to sisal carpets. This is an easy switch using an inexpensive sisal runner in your kitchen or hallway.
I recently added this napkin holder (IKEA) and salt and pepper shakers (Enchanted Home) to my kitchen island - even the straws remind me that I should be on "island time!"
You could of course go all out with a dramatic show stopper like this rattan armoire from Palm Beach Regency, but it's going to not only take a real commitment to the look - it's going to require a lot more space than a napkin holder and a lampshade! 
The great advantage of adding rattan, rope, raffia and other similar materials into our summer decor, is that it works equally well with nautical, beach, BoHo, contemporary, and traditional southern interiors - all of which benefit from its visual interest that, even subconsciously, take our minds to balmy breezes, dipping palm fronds, dappled light, tall shutters and longer porches.