Enchanting: Washington, D.C.'s Hillwood Estate & Museum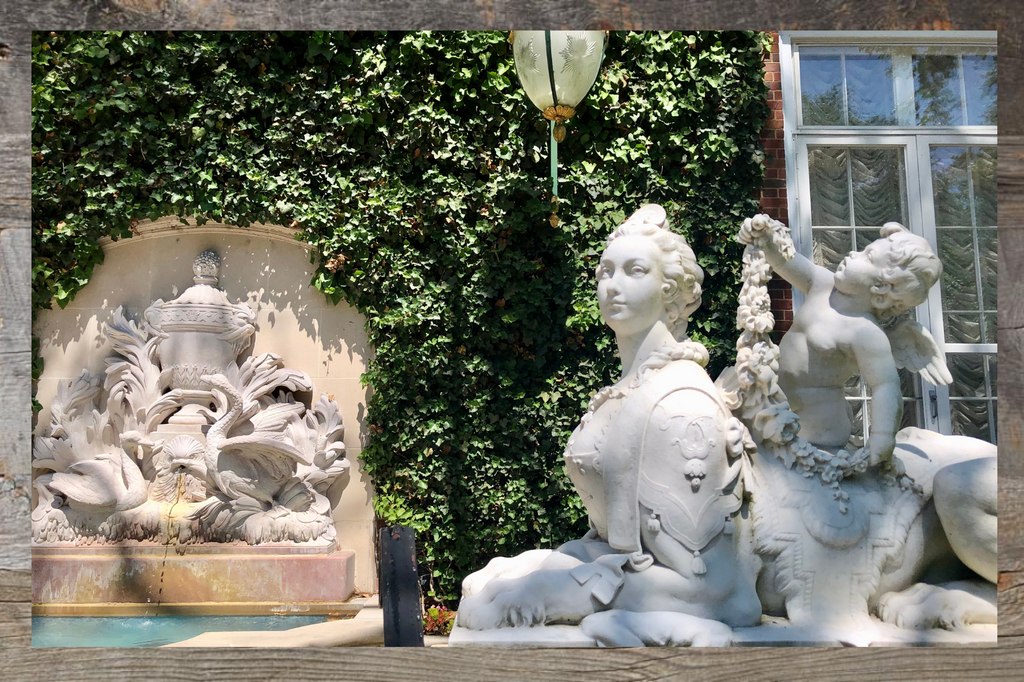 Some southern secrets are worth keeping – unless one is feeling generous - and, today, I am!
Famous for its marble monuments and cherry blossoms, which are grand, and reason enough to visit, the Nation's Capital has many small, but precious, museums and attractions not known to all.
One such bijoux is Hillwood Estate, Museum & Gardens in northwest Washington. This estate was the home, and the lasting legacy, of heiress, socialite, philanthropist and fine art curator Marjorie Merriweather Post. Ms. Post purchased the property in 1955, and kept it as her home in DC until the end of her life in 1973.
Growing up, my mother insisted that we take advantage of all DC's amazing museums and galleries, but Hillwood was a well-kept secret until we visited at some point in my mid-20's. Since that time, I have had the privilege of enjoying Hillwood many times throughout the years. This gallery of photos are my own images taken on recent visits.
Among my personal favorite memories were the sunny days when I might take a bag lunch with me and sit on a bench on the Lunar Lawn, overlooking the expanse of verdant grass - 13,000 square feet of turf - and those gorgeous American Elms. At the time, I could see the tip of the Washington Monument, which seemed so far away, but only a mere 3.8 miles, in fact. Today, the tree growth hides the monument, but it's lovely knowing it's there as a touchstone just beyond the trees.
The 18th century lion, Leo, oversees the Lunar Lawn and is made of stone. This is an area where Ms. Post truly enjoyed hosting guests, particulary when she entertained for her favorite charitable organizations. It's easy to imagine the summer frocks of the ladies on this back portico.
Hillwood is not only aesthetically pleasing with its historic and valuable fine French and Russian art and artifacts, it is a significant cultural contribution to the United States. Those items within the house, which have captivating provenances, along with fabulous Japanese and French gardens, an indoor and outdoor café, gift shop and orchid greenhouse, make for a visually stimulating day. If you're a photographer beyond the smart phone, be sure to bring your camera. 
Ms. Post's third husband (one of four), Joseph E. Davies, was the American Ambassador to the then Soviet Union. On my first tour there years ago, it was stated that Ms. Post was said to have "dug around in Soviet basements" where communists tossed priceless Russian artifacts. While her tenacity for finding the finest artifacts amid the rubble would not surprise me, in truth, there were state stores selling wares that were taken from the Imperial family and the Church, who sold the items to raise money for their new government.
She ultimately amassed the largest collection of Fabergé - some 90 pieces - outside of Moscow, along with countless other Russian art and artifacts. As such, Hillwood has gifted visitors the largest collection of Imperial Art outside of Russia. Pictured here is one of the lush Imperial Fabergé eggs and the Russian Imperial Nuptial Crown.
Hillwood's collection contains nearly 20,000 objects of Russian imperial art, French eighteenth-century decorative art, and Marjorie Merriweather Post's personal collection of apparel, jewelry, and accessories. It's been my pleasure to introduce this amazing house museum to many friends, including my husband, whose first visit was not that long ago.
A house tour, most especially if you are visiting from out of town, is definitely in order. You will be greeted in the impressive marble lobby and unable to remove your gaze from the massive rock crystal chandelier, French sculptures and enormous oil paintings that line the stairway to the second floor.  
My favorite story from house tour concerns the dining room rug. Our docent many years ago revealed that the aubusson rug was made in Mexico for King Louis XVI and Marie Antoinette of the French Court. The rug reportedly arrived at the palace, but a day after the couple had been beheaded. The palace staff, concerned the rug may fall into the hands of revolutionaries, wrapped it up and sent it directly back to Mexico, where it remained until it came into the possession of Ms. Post, hence why it looks brand new. On my last visit, I confirmed this story with our docent.
The dining room table and breakfast room are alternately set with various pieces of china from the estate's collection - a tour of the kitchen and butler's pantry reveals the many patterns the heiress entertained with. The tour also includes the private rooms of Mrs. Post, where you will view portraits of her daughters, Mrs. Post herself and other family members. In this first portrait, Mrs. Post holds an orchid - her favorite flower - of which there are now 2,000 in the greenhouse on the estate, another stop you'll want to make on your tour.
I've long had a fondness for the small breakfast room  which overlooks the Lunar Garden. Whether it's the green crystal chandelier (I've a small obsession with emerald green glass) or the windows that fill the room with light, this might be my favorite room in the entire mansion. 
Dining, or take away, is available at Hillwood in the Merriweather Cafe where I have thoroughly enjoyed my meals. My dear friend, Sandy, and I try to meet-up every so often in DC and this is one of our favorite spots! I highly recommend the Coronation Chicken Salad on croissant and, the Chocolate Pot de Crème - the calories of which you will work off if you're touring the gardens! 
Visitors are also welcome to bring a picnic lunch to the estage, relax under an umbrella and peer across the miles with one of the best views over DC with your own lunch!
I recommend a membership to the museum, particularly if you are within a three hour drive as you will certainly want to see the ever-changing landscape and bring guests. The gardens, orchid greenhouse and mansion are completely memorable. Annual membership for an individual: $60; family: $85. Daily admission: $18, adult; $15, senior; $10 students. For more information, visit http://www.hillwoodmuseum.org  This is one Washington, D.C. secret we are letting out of the bag! 
Hillwood Estate Museum & Gardens                                                                  4155 Linnean Avenue, NW                                                                      Washington, DC 2000                                                                                202.686.5807
HOURS - Tuesday-Sunday, 10 a.m. to 5 p.m.
Admission - Adult: $18
Senior: $15
College Students: $10
Child (6-18): $5
Children under 6: Free
Hillwood members: Free