Rosemary Beach: New Urbanism Meets European Refinement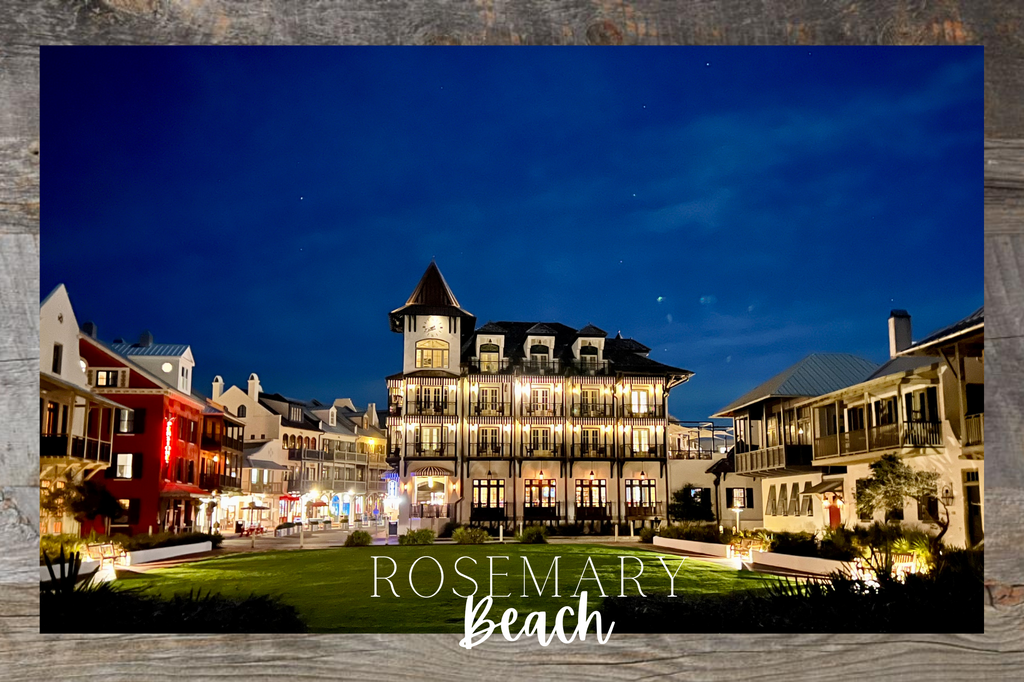 Amid the cobblestoned streets, black and white awnings and the urge to dine al fresco, is the feeling that you're no longer in the United States, but in some blue-sky European enclave. Rosemary Beach, Florida is such a place and it sits on the Gulf of Mexico, with sea breezes down every cobbled alley and onto the wide green public spaces.
We've visited Rosemary Beach several times en route elsewhere, but never enjoyed the pleasure of staying until I recently attended a conference of primarily southern influencers. The conference was held at The Pearl, which possesses a sublimely luxurious, coastal elegance with a complete absence of pretense. The service is a testimony to genuine grace and southern hospitality. You don't check-into The Pearl as a stranger - you are all at once a member of the family.
Greeted by Randy at check-in, we were immediately engaged in the culture of The Pearl - cordial, relaxed, but exacting in the service. Randy, and the young man who helped with our luggage were our first contacts with The Pearl and turns out - their impeccably amicable service would be something we could count on with every staff member we encountered.
We dined the first evening at the hotel's restaurant, Havana Beach Bar & Grill and our meal, server and drinks reflected our welcome. While my husband indulged in a Creole Pasta, I craved some French Onion Soup (the weather had turned a bit chilly over the weekend) and a hamburger, of which I nearly finished the entire thing!  To know me, is to understand I simply cannot consume an entire hamburger in a single meal. I wish I could recall the name of our server because he was equally engaging, well-informed and delightful.
The following evening, we chose to enjoy a cocktail in the Havana Beach Lounge, a West Indies inspired room with peacock blue walls, a green velvet sofa and sumptuous leather chairs and appointments. 
With an overnight stay at The Pearl, guests receive a pass to access the beach property just a couple blocks to the Gulf. This private beach boasts Florida's soft white sands, bright umbrellas and comfortable chaises. Had I the time, I would have claimed a spot for several hours. 
On Sunday morning, we made our way to the 30A Farmers' Market held on N.Barrett Square. I purchased some fig jam to take to a friend's vacation home, along with charcuterie, and a jar of Peach/Mango Spicy Jam for home from Weslowski Farms. I intend to use the latter for serving with Brie and/or proscuitto, as well as on turkey sandwiches. We discovered an Argentine baker, which made my husband happy, and enjoyed a special dulce de leche pie with friends. The Farmers' Market is open Sundays from 9AM-1PM year round. Always be sure to check their schedule, however, for any potential changes. While Rosemary Beach is a pet-friendly town (we saw loads of leashed dogs at the Farmers' Market and on walks),please note that The Pearl allows service dogs only, at this time.
Rosemary Beach feels worlds away from the "regular," and that may be because it is. Part of South Walton, Rosemary is tree-lined streets, friendly neighbors, coffee shops with fresh-baked deliciousness, restaurants and charming boutiques and galleries that bring both charm and warmth to the town. Grab a bike ride, treat yourself to a spa day, dip into a gourmet shop or buy a 30A tote or hat to commemorate your trip - to use when you return, because you will. 
 The Pearl
63 Main Street
Rosemary Beach, FL 32461