Coastal Style: Fishin' and Dishin' at the Table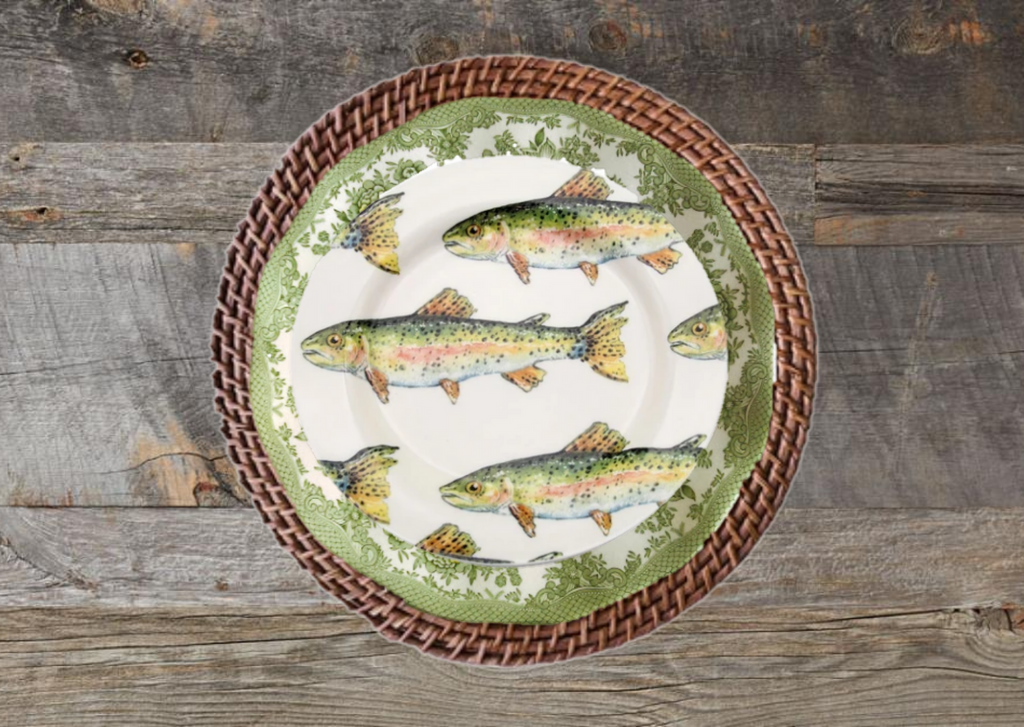 Fins up, Maggie Blue loves a great fish tale.
Even better, she loves any entertaining excuse to expand the butler's pantry inventory to include some pretty cool fish motifs.
In my testimonial of 'why' I began Magnolia Blue, I explained that I want to celebrate the American coastal south and ALL of its moments – and that's what this is – celebrating every nuance, and making every moment an occasion.
There is no single way to celebrate southern coastal life – beach going, front porch sitting, sweet-tea-drinking, golf club swinging and casting a line, are just a few reasons people love the coastal south. 
I'm attracted to fish design in home décor - and while I don't have much of it in my own home, I get excited about it when it comes to coastal cottages or lakeside retreats.  My mother, the Pisces, wouldn't have a single image of a trout or sea bass in her own home - nary a pillow, dish or artwork - but I make no apologies for my fish love.
Coastal influences abound in my home from shells to tall ships models, and fish is certainly resonates as one of my favorites. As a motif, the "fish" can be integrated classically with traditional art, whimsically or as an abstract by way of that colorful punch of summer fun we frequently see in beach cottages. In the following fish dish designs, I've included traditional southern blue and white, clean and modern and even a sophisticated design and other affordable options for year round fish-fun.
I know there is something here for the lakeside cabin, the backyard or pool deck, or to layer with some of the china or casual pieces you already in your cabinets.
1 - Golden Rabbit Fishing Fly Enamelware Dinner Plates (Pack of 4, 10.75") $60, Overstock.com. These adorable fishing flies just look like the promise of a fun and relaxing day. The fact that they are made of baked-on enamel makes them safe for the pool and pier area, and fun for campfire feasts after a day of fishing! Limited quantities, but also available through other sellers.
2 - Abiammo Tutto Lake Fish Dinner Plates (Set of 6, 10"), $131.99, Wayfair.com. When you watch minnows and other small fish in creek, don't they always follow one another like this? In schools? These fish in motion remind me of how busy little fishies can be and the design is clean and can be paired with white or dark blue salad or lunch plates. What a fun addition in your creek view condo!
3 - Fish Camp Enamelware by Golden Rabbit (Set of 4, 10"), $84, OceanOfferings.com - whether you're on the boat or at home, this southern blue and white favorite enamelware holds up to oven, stove-top and even broiler heat, as well as freezer storage. Even better? You can safely use a knife on it and they are dishwasher safe! How's that for making your life easier?
4 - King Salmon by Spode - $30.30 each, Amazon.com (also sold on Replacements, eBay and other sites). This Spode Woodland series of fish comes in four North American fish depictions, including Rainbow Trout, Walleye, and Large Mouth Bass - in addition to the King Salmon. I envision this amazing pattern at Thanksgiving or other rich autumn-into-winter meals, that resemble feasts, large or small, with a fireplace ablaze, goblets filled with cider and wine and plenty of great conversation around the table. 
5 - This Rainbow Trout Stoneware (Dinner plate, 11"; salad plate 8.5"), $6.00 per plate JLeeDecorandGifts.com. No one in my immediate family fishes, but I am obsessed with this pattern, which is why I included the salad plate along with the dinner. Moreover, I have tracked down the best deal on these dishes for the Blue Crew! These dishes run as much as $19.99 per plate on other sites. This is a great vacation house pattern or gift for those folks who love to celebrate life along our lakes and streams! 
6 - Millwood Pine Misha Melamine (Set of 6, Dinner plate 11") $44.99 for the set, Wayfair.com. This whimsical melamine is summer fun on a plate! I would dare to pair this design with one of my all-time favorite designers, MacKenzie-Childs. I can just see the quintessential black and white check designs of MacKenszie-Childs alongside these perfectly picnic or patio dishes (see image below).
7 - Herend Fish Scale (Dinner plate 10.5"), $310 per plate, Gumps.com Fit for Neptune's watery table, this sophisticated take on porcelain by Herend called Fish Scale is available in several colorways. I chose blue, but the green, gray, lavender and others - are all sumptuously full of hand-painted detail, including the undulating gold waves and scrolls, that only this classic design house can deliver. If you're looking to celebrate our finned-friends with eternal elegance, this just might be the pattern for you! 
While entertaining in-home, remember to create colorful stories with your dishes. Mixing and matching your stoneware and china fish plates with other complimentary or contrasting patters, both formal and casual makes for a much more interesting meal. Above, I paired Rainbow Trout stoneware with a gorgeous vintage green Wedgwood transferware pattern and rattan charger.
Guests feel so special when they arrive at their place, no matter how modest the meal, and see that you've created a special moment just for them. 
(Photo: VERANDA)