Forging New Fall Color Ways in Entertaining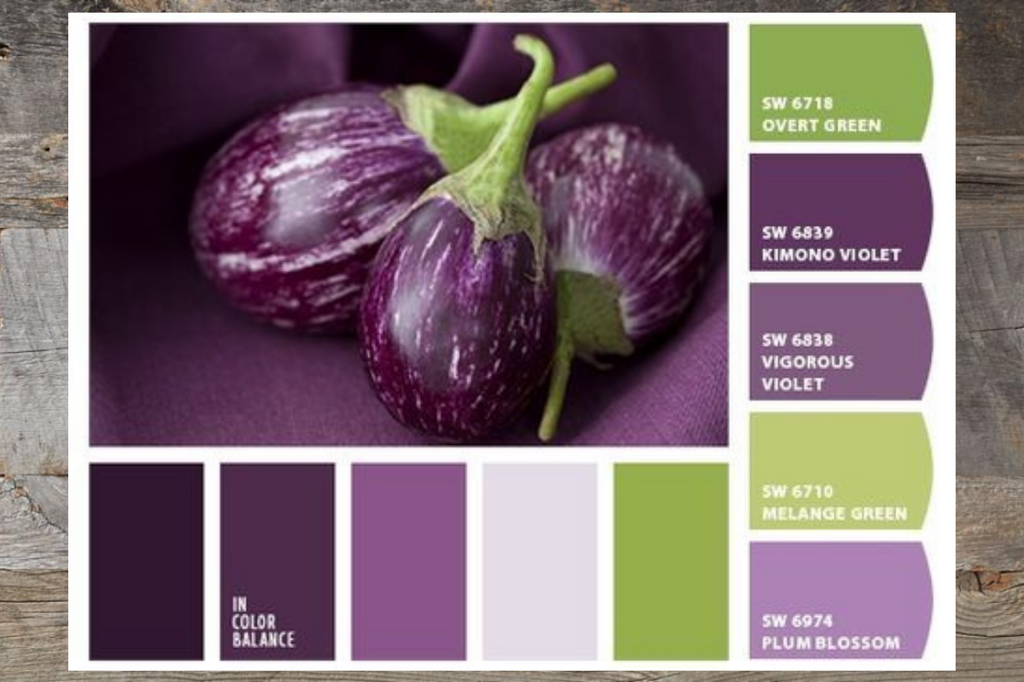 Flaming bursts of crimson, orange and yellow changing from green and everything in between - the bold and beautiful colors of autumn. These resplendent shades  - I like to believe - are summer's final gift to us to lessen the blow before she walks out the door.  
With fall, there is a penchant for nesting, and outdoor events with bonfires and s'mores. But, these shades of pumpkin, saffron and robust reds, while enchanting in nature, do not always translate to the special occasions that often come with the season.
Today I'm taking a color-road less traveled and have packed shades of fern and moss paired with purples.
I love this color duo so much, I've had TWO kitchens with it - and I've had the eggplant Dutch oven, roaster and accessories to see it through!
One September, we were honored to host our son's rehearsal dinner in Virginia wine country, at the base of the Blue Ridge Mountains. Their wedding colors of sublime soft beiges and pinks with touches of Bordeaux set just the right tone for their elegant, rustic-chic nuptials at the vineyard.
Tying into the wine-country backdrop and one of my favorite color pairings, I chose deep shades of fern and mossy greens and aubergine for the rehearsal dinner. Naturally, I ran my color scheme and theme ideas past my (now) daughter-in-law over tea in Annapolis with her visiting mom. 
In addition, I chose a honey-bee theme (like true love, honey lasts forever) - and so our favors were small jars of honey, with a gold wax seal, tucked inside a small black favor box with a print of a chalk bee to match the invitations and a tiny bottle of bubbles with bumble bees on top. 
I utilized Pinterest from the very beginning - it was an exceptional tool in mining ideas, as well as posting my own inspirations on the "Rehearsal Dinner" vision board. 
The board was essential in remembering inspired recipes, as well as ideas about chair sashes, linens, appetizers, cocktails and food displays. My board began with a teal and apricot theme, the ideas of which are still saved there, but I moved on quickly once I set my sight on a new color scheme.
While the dinner was held at a gorgeous microbrewery, under the stars, so I needn't have worried about table linens, I wanted to make sure that we decorated as much as we could to make is special and memorable. Long-distance planning is not always easy, but I consulted online and found these linens for a steal at Tablecloths Factory I purchased the moss and the eggplant in chair sashes (which I used for various table scapes, as well as for the the groom and bride-to-be chairs, as well as table runners. I also added brown to the scheme, but as a neutral, to tie into the vineyard colors of vines, leaves and grapes. 
We utilized our massive rental home at Wintergreen Resort, overlooking the Blue Ridge, for a post-rehearsal dinner after-party (for late comers and anyone else who wanted to join us) and carried the moss, fern, purple and earthy, but elevated, colors with us.
When choosing alternative fall colors, whether for something as memorable as wedding weekend, a special birthday or a casual gathering of friends, if the occasion itself doesn't dictate the color scheme, start with an inspiration. I happen to love shades of green and purple together - but, frankly, they are perfect for a vineyard gathering. 
Rich chocolate brown is becomes more sophisticated when paired with coral-salmon, bronze, pink or Tiffany-blue; Navy and cranberry with hints of beige and blush are enchanting. A deep, rich slate gray partners with almost any shade, light or dark, from whisper pink, or teal or clear spring green. The point is - if the natural tones of autumn are not for you, work around them!
In a later blog, I'll talk more about the particulars of the rehearsal dinner, our spectacular meal and how we made the after-party a little more special for the bride and groom. Until then - y'all - keep it light, bright and beautiful!